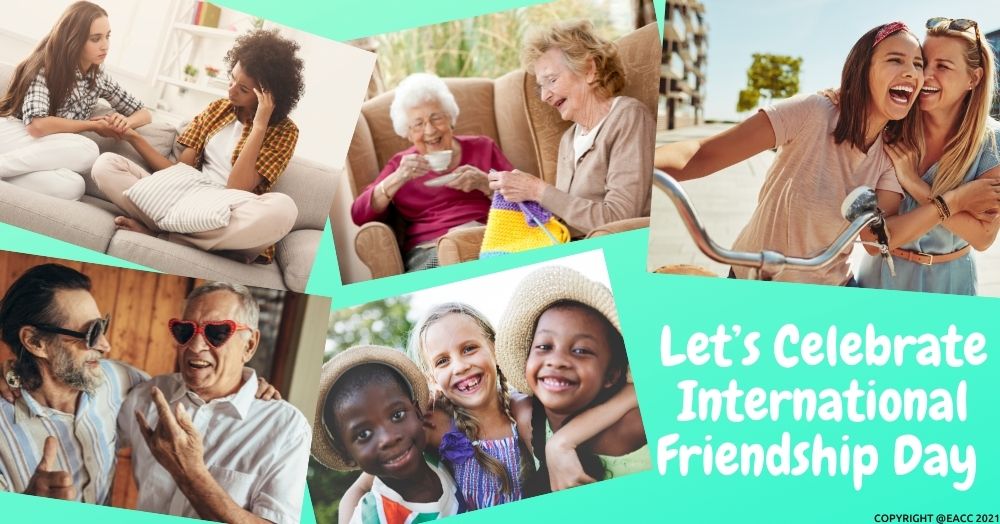 23 Jul

Let's Celebrate International Friendship Day

This two-minute read looks at different types of friendships and how to strengthen them.

The UN General Assembly proclaimed 30 July as International Friendship Day in 2011.  Friendships are crucial for our wellbeing and mental health, whether in person or online.

 

Acquaintances

Casual relationships can be with neighbours, fellow gym-goers, or the waitress in the tea room. These are characterised as low-stake relationships. This doesn't mean they're unimportant. In fact, quite the opposite. In 2014, a study* showed that people with higher numbers of acquaintances feel happier than those with less. This is because you feel a greater sense of belonging and feeling of being part of a community. Dr Anna Akbari, a sociologist and author, describes these as 'passive friendships'. So, when you're out walking the dog, look up from your phone, make eye contact with other walkers and develop your network.

 

Deeper connections

Active friendships are those where you share a deeper connection. You're likely to share similar values. Dr Akbari explains that these are the people "you go out of your way to schedule with, to show up for, to learn from, and to make new memories with". If you feel joy when you're with them, can confide in them, if they challenge you, and you feel able to learn from them, they're likely to be your important relationships.

 

Maintaining balance

It can be easy to think of living a balanced life as maintaining a good work/family life. To truly develop balance, we need to also pay attention to exercise, hobbies, and our friends, too. Some ways you can nurture your friendships include:
Use positive body language when you're together, like putting your phone down or leaving it in your bag
Take five minutes to call or text your friends. You don't have to spend hours together for it to be meaningful
Develop traditions, so seeing one another becomes a habit, as important as a business meeting in the diary
Combine two areas of a balanced life and exercise or take a hobby class with your friends
Send photos to one another to share parts of your lives
Share articles that might interest them when you're scrolling the news anyway
Bring home souvenirs for your friends when we can travel properly again
Show up for events, even if it's only for half an hour (if you're tired or busy).
Making new friends can feel like an intimidating task but starting as acquaintances is a good place to be. How did you meet your friends? Let us know so we can share with new people moving to our area. Email info@cobbamos.com
* https://journals.sagepub.com/doi/abs/10.1177/0146167214529799